SPOTLIGHT
This is the best Mailstation for a small business with a fast-paced mailroom. You will get automatic postage rates updates. This Pitney Bowes meter has a compact design and is easy to use. The seamless internet connectivity makes the mail station efficient.
FEATURES
Best for

:

small businesses

Price

:

$ 22.99 per month

Free trial

:

60-day free trial
PROS
Useful integrated apps to optimize mailing

Advanced Sales analytic tools
CONS
It takes time to understand how the interface works.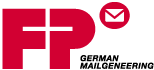 SPOTLIGHT
FP PostBase Mini is the best tool to boost your small business. It's user-friendly. You can navigate the mailroom like a smartphone. Despite being compact, it's still convenient and professional. It's a quiet machine with a very attractive design.
FEATURES
Best for

:

small businesses

Free trial

:

no free trial
PROS
High capacity ink cartridge

SPOTLIGHT
You can easily customize your mail using this meter. It combines parcel processing and mailing solutions in one powerful machine. Don't let the compact design fool you; it can help you track spending for up to ten departments.
FEATURES
Best for

:

small office environment

Price

:

you must request a quote

Free trial

:

no free trial
PROS
It's designed for a small office
CONS
The scales weigh only up to 5lbs

SPOTLIGHT
EZ-Mailer has all the features you need to turn your mail center into a profit center. It's the best option if you have limited office space. You will get postage accounting with full reporting. An ink saver feature also makes it an economical office tool. It comes with an optional 25lb scale.
FEATURES
Best for

:

low to medium mail volume

Price

:

save up to 95 cents per piece

Free trial

:

no free trial
PROS
The configurable screen is easy to use

It comes with large integrated scales
CONS
It might be too large for a small mailroom

SPOTLIGHT
Stamps.com is an established internet-based postage service provider. They help online sellers, enterprises, and small businesses print Service-approved postage from their offices using a computer. They mainly focus on home offices and small businesses. You can try their services for four weeks to see if they are the right fit. They even add a $ 5 free postage on top of the free trial. You can use your existing computer and printer without acquiring any postage hardware. It makes it simple to customize the postage and even add your logo and a return address. Most postage companies will require you to buy hardware to support their services but not Stamps.com. Everything will work perfectly as long as you have a stable internet connection and a printer. They have also streamlined postage operations for large enterprises. Big companies, especially those with multiple locations, can send mail from anywhere without using special equipment. No licking is required on their postage stamps unless you do it out of habit. They are relatively cheaper compared to postage from UPS or the post office. You will need an account to access all their services. Other people can access your Stamps.com, but one device needs to be connected at a time. One of the best services they offer is helping you track your postage spending.
FEATURES
Best for

:

small office mailers

Price

:

$ 17.99 per month

Free trial

:

4 weeks free trial
PROS
They don't require special equipment
CONS
A bit expensive compared to other competitors